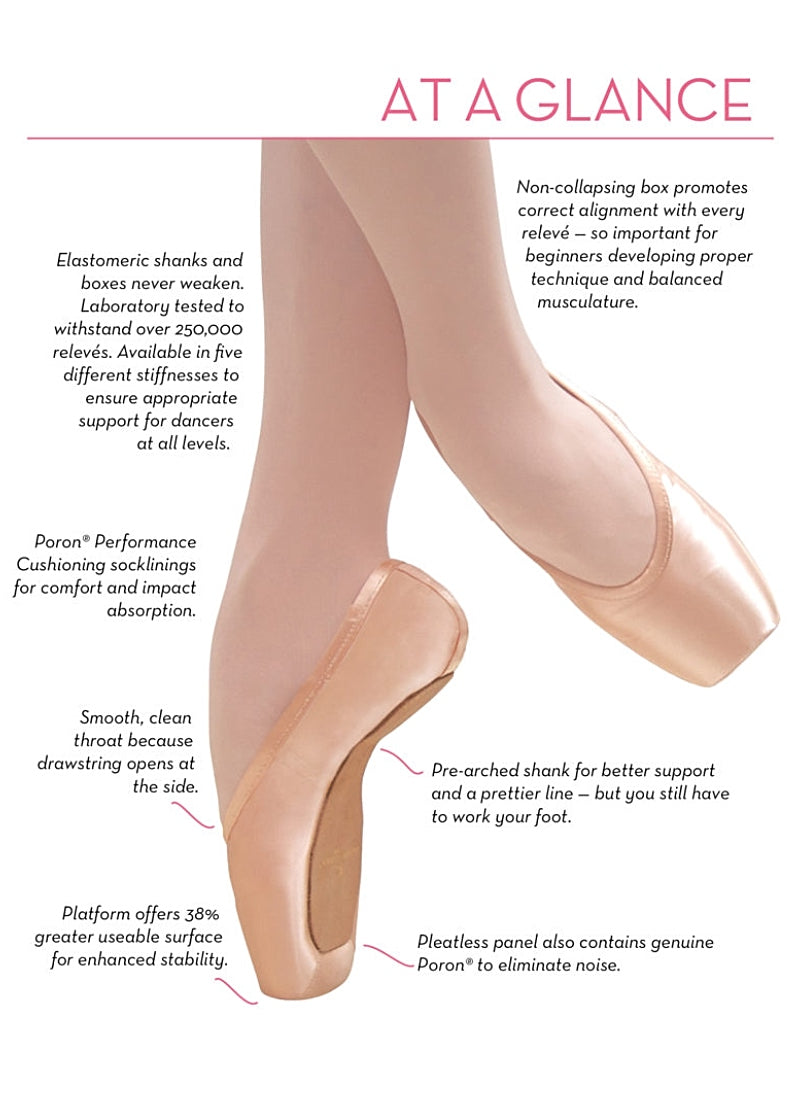 Made-to-Order Sleek Fit: ExtraFlex (Yellow Bag)
Style No.
---
Looking for a smaller or larger size, or interested in tweaking your current fit a bit?  Try one of the available custom-made sizes of the Sleek Fit Pointe Shoe and find the shoe that's right for you! 
Shank: ExtraFlex (yellow bag, stiff) 
Sizes: 5 - 12
Widths: Narrow, Medium, or Wide 
Box Shapes: #2 (very tapered), #3 (tapered), #3+ (somewhat tapered), #4 (slightly tapered), or #5 (square)
Vamp: Deep
Heel: Low
NOTE: Made-to-Order Pointe Shoes are FINAL SALE.  No refunds or exchanges, except in the case of damaged merchandise.  Please see our return policy for more details. 
Customization questions?  Please call (224) 307-3831.
Material:
Start approximately 1 size up from women's street shoe size.
To determine which size and style is right for you, please schedule a fitting in one of our boutiques.
Gaynor Minden Pointe Shoe Size Chart
This item is available online only.
Gaynor Minden pointe shoe special orders may take 8-12 weeks for Standard sizes and 12-16 weeks for Non-Standard sizes. To determine whether your size is Standard or Non-Standard, please refer to the Ordering Options Chart.
For specific inquiries, please contact our Ecommerce Team at orders@allegrodanceboutique.com or call (847) 733-8460.
Made in Bosnia and Herzegovina.
Gaynor Minden pointe shoes feature a supportive satin exterior that encases a modern & innovative interior. The box & shank are made of advanced flexible polymers that do not weaken or soften with use, thus prolonging the life of the pointe shoes by 3-6 times that of traditional paste pointe shoes. Gaynor Minden pointe shoes also feature incredibly comfortable Poron® 4000 Performance Cushioning, reducing noise and negating the need for toe pads, while still allowing dancers to fully feel the floor. Highly customizable, Gaynor Minden pointe shoes feature of myriad of options to choose from, such as box shape, fabric cut, and shank strength, thus allowing all dancers to create the perfect shoe just for you!
NOTE: Because Gaynor Minden pointe shoes do not break-in, it is important to make sure that you can easily roll-through demi-pointe right away in a brand new pair.  If you can't roll-through demi-pointe easily, try a more flexible shank.
For customization inquires (such as changing the vamp or heel height, adding satin tips, etc.), please contact our Ecommerce Team at orders@allegrodanceboutique.com or call (847) 733-8460.